Blog Archives
The lies being spread about Keystone XL reveal how desperate opponents are to confuse the public
Minnesota Laborers continue to fight for the Keystone XL Pipeline and the 20,000 direct and 120,000 indirect jobs it will bring to our members and our region. The Department of State is set to formally reject the Keystone XL Pipeline project application today. This decision was the dominant topic in today's earlier White House press briefing.
Keystone delay has Canada pondering China oil deal
Canadian Prime Minister Stephen Harper said Monday he had concerns the $7-billion Keystone XL pipeline might not win political approval in the U.S., and added that Canada should be looking outside the United States for markets.
"I am very serious about selling our oil off this continent, selling our energy products off to Asia. I think we have to do that."
Common sense tells us that we're not done using oil in the U.S., let alone the rest of the world. We have a ways to go to convert, although alternative fuels, wind turbines, and solar arrays are starting to have an impact. We know, and both pundits and politicians talk about, the critical nature of energy independence, and there's no question that Canadian oil reserves are a strategic asset for North America.
Read the rest of this entry →
Thank you, Congressman Walz: working men & women are the real job creators.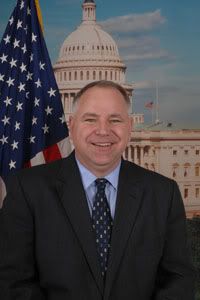 While the U.S. House and Senate appear far apart on pending legislation, Local 49 of the International Union of Operating Engineers was encouraged to see both an overdue suggestion of initiatives to create jobs from the GOP-dominated House of Representatives recently and brave, bi-partisan support from the likes of Minnesota First District Congressman Tim Walz.
Minnesota's Walz was one of just 10 Democrats to vote Tuesday in support of a bill to extend the payroll tax cuts and extend unemployment assistance although that bill, which passed the House, scales back those benefits over time.
"I am sick of the political games being played in Washington," said Congressman Walz. "It is time to get things done. Tax breaks for the middle class will strengthen our economy and create jobs that will help us tackle the long-term national debt facing our country."